-27%

Zoom the image with the mouse
Guaranteed Fitment

Always the correct part

In-House Experts

We know our products

Added Value

Mounting, Balancing

Wordwide Delivery

Free shipping on all orders
Ampinvt M-WR4 WIFI box RS485 to Adapter Conmmuication Wireless Monitoring
December Sale Save 15%! + Free Worldwide Shipping *
Sale Ends Once The Timer Hits Zero!
(*) Discount will be automatically applied at checkout, no discount code required.
❶Realize real-time wireless monitoring function of solar controller and inverter by APP,,simple and convenient to set,, One-key restore the factory...
customers are viewing this product
❶Realize real-time wireless monitoring function of solar controller and inverter by APP,,simple and convenient to set,, One-key restore the factory settings.Suitable for Andriod system. (it need few seconds to identificate single when you first connect the wifi single by APP)
❷Real-Time monitor the Daily energy/Monthly energy/Total energy and power
❸Suitable for: FT-(Ampinvt) Series, APC(Ampinvt)Series,the(Silver case,Ampinvt Logo),do not support 40A only.
❹Use high performance CPU with core M4, Ultra-low power consumption and high speed data processing capability,No need of external power supply , Communication distance up to 165 f
❺Widely Used: RV, camp, street lighting wireless monitoring etc .our email is ouqinmao@ampinvt.com .contact us if you have any question.
   M-WR4 Box-WIFI-01 is a kind of serial server which can make our company's solar controller and inverter be with wifi communication function, and carry out wireless monitoring, parameter settings, and etc. For the system only by cooperating with mobile phone APP(Android). Plug and play, simple and convenient set, it has many excellent features. 
APP download:http://www.inverteriot.com/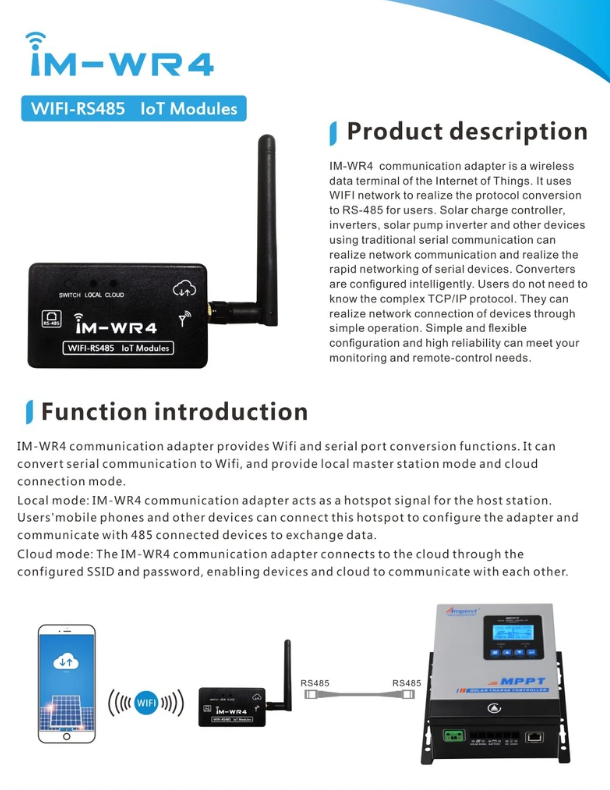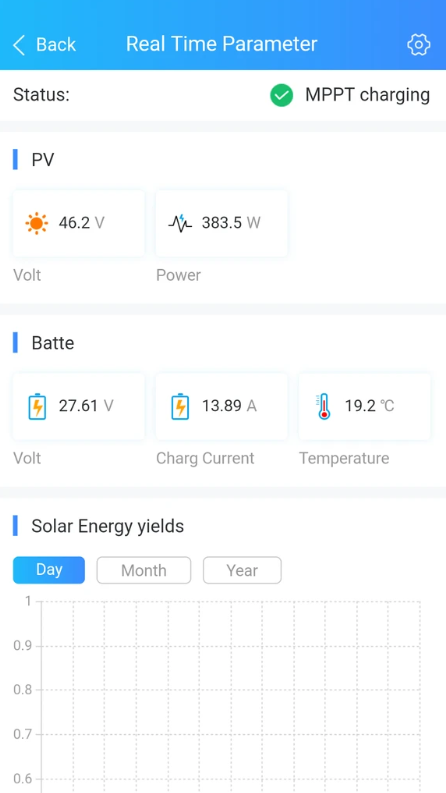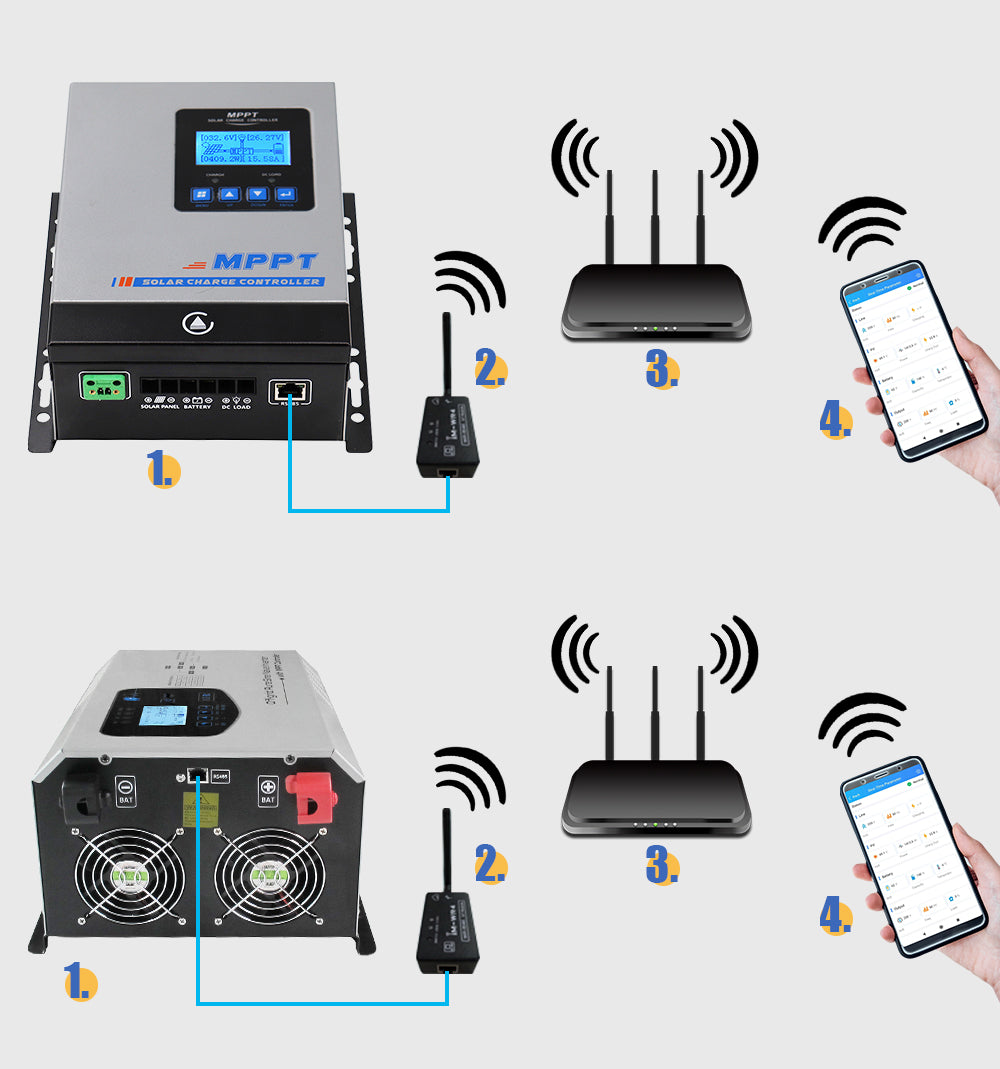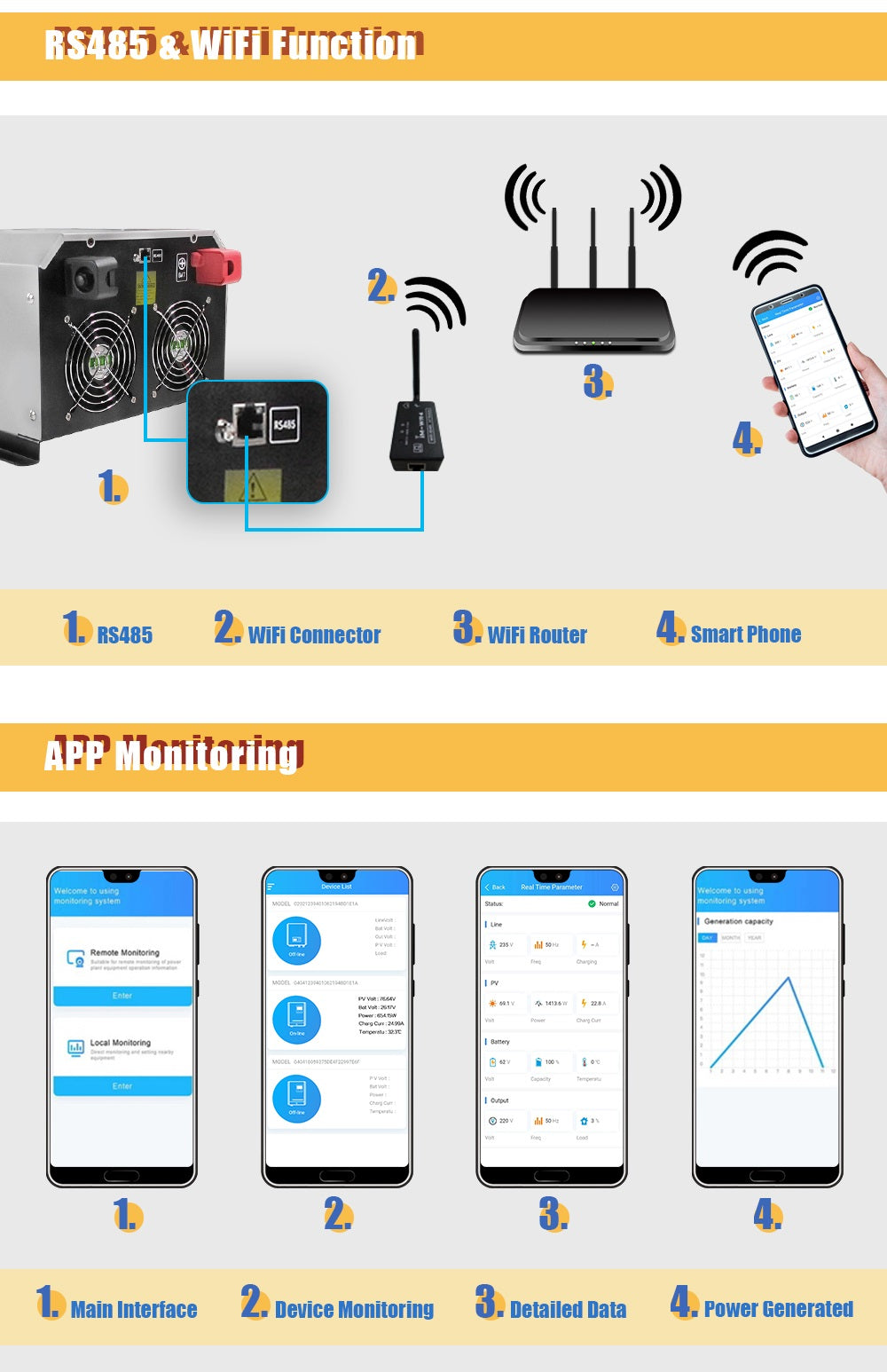 An off-grid solar system requires four core devices: solar panels (generating unstable direct current), solar controller (storing unstable direct current simultaneously into batteries), storage batteries (storing electric energy and discharging energy), and inverters (converting stored battery electric energy into 220V or 110V AC discharge).
Product Quality Assurance for One Year
The selection of inverters is mainly related to batteries and appliances. The power of domestic inverters is selected according to their own conditions, and the full power of power frequency inverters. 6000W can bring enough conventional 6000W household appliances, such as 1.5 PCs (1500W) + TV + refrigerator, and occasional use of other electrical appliances, such as induction cooker and water heater, generally need 5000W-6000W. Battery voltage series and 48V are recommended. Normally, the choice of battery voltage should correspond to power, such as 6000W/48V, current 120A is more suitable, such as 24V, the current will be as high as 240A at full power, the service life of the inverter will be shortened, and other power will be the same. If a single electrical appliance, such as an induction cooker, is used, the maximum number of watts of the induction cooker, that is, the corresponding power of the inverter. However, if the starting power of pumps is relatively large, the power frequency inverters with more than twice the power are usually purchased. If your pump is 1000W, the minimum recommended inverter is 2000W and 3000W. Otherwise, because the starting power of the pump can reach 5000W-7000W, it will cause insufficient power and can not start.